Candice Mama | Inspirational Speaker | Overcome Adversity
Candice Mama is the author of "Forgiveness Redefined" who started her work in forgiveness, reconciliation and trauma after her story of forgiving apartheid assassin and her father's murderer, Eugene De Kock, made international news. Having been inundated with requests to show people how to forgive she went on to become an award winning international speaker who's story has been heard by the Dalai Lama.
"FORGIVENESS IS THE HEALING BALM OF THE HUMAN SOUL. TO LIVE IS TO FORGIVE"
The human experience is filled with moments whereby we feel dejected, rejected or in pain and in many instances it's due to no doing of our own
It is in those very moments that we need to make the choice to carry that pain forward for the rest of our lives or to free ourselves and in turn heal
I have known severe pain and trauma throughout my life therefore I do not say it lightly when I say forgiveness is one of the most necessary life skills we can build in our lives
My life is dedicated to exploring and teaching forgiveness outside the realms of religion through speaking, coaching and upcoming projects such as:
"The Unforgivables" – a docuseries which delves into the exploration of forgiving what society has deemed unforgivable through others lived experience. Out March 2020 on your local streaming site (details to follow soon)
"Forgiveness Redefined" – my book which retells living through trauma and delving into what forgiveness truly means. Book out November 2019 in all leading book stores and Amazon
Her Story
Candice Mama was born in 1991 in South Africa a country that was gripped by the grossly violent and oppressive system of Apartheid and this is my story
In September 2014 , The National Prosecuting Authority reached out to my family to enquire about whether or not we would like to meet Eugene de Kock ( a former South African Police colonel, torturer, and assassin, active under the apartheid government. Nicknamed " Prime Evil" and sentenced to 212 years in prison under 89 charges)
As many would imagine, it wasn't a decision we came to without many dinner-table discussions and some trepidation from members of the family.
We agreed to schedule our meeting for the following Tuesday. In the days to come, a sense of self-reflection enveloped me.
My dad, Glenack Masilo Mama, was brutally killed in a vicious and unjust time in our country's history. My memories of him were nothing but compilations of different people's stories and pictures we collected over time.
However, the one thing I knew for sure about my father was that he had been tortured and then burnt to death by a man named Eugene de Kock.
I went on to read numerous articles and books about the man dubbed Prime Evil and his legacy, which was that of being the face and embodiment of an unjustifiable system of hate and oppression.
Growing up in a house where reading and introspection were encouraged allowed me to be able to contextualise my dad's killing. Which, in my mind, made his death mean something.
He died fighting a system and wanting a different country for my brother and myself, which we are extremely fortunate to now be living in.
This made me realise I couldn't hate De Kock because love and hate cannot operate in the same space.
If I wanted to resent him, I would never be able to fully enjoy the life my dad and so many others willingly or unwillingly died for.
He had robbed me of a father and I had subconsciously given him sixteen years of my anger, anguish, sleepless nights and bouts of severe depression. One day I just refused for him to take away my joy and enthusiasm for life any more than he already had.
So I did what I had to do and I forgave him.
At the age of Twenty- Three , here I am with my family ready to finally meet the man who took away not only my father but so many others – friends, husbands and sons. I was surprised at how I froze and allowed my mum to lead the line of questioning until I became present again.
With every question asked and every answer given, my empathy grew for this complete stranger who spoke so sincerely that I couldn't help but let my defences down.
I looked on in awe as I witnessed myself crying not because of who I had lost, but because I saw a man who was created by a regime and who took the fall for a government. A man who lost so much more than I would bear had I been in the same situation.
I left having felt like I had just been lucky enough to meet one of the most brilliant thinkers of my time and someone who was also a victim to a system of indoctrination. I had forgiven him then, but having met him, I can say I have been changed by this encounter forever.
A few days later I went on to write an open letter to our Judicial system with the following excerpt:
"The African National Congress's strategic objectives are to build a united nonracial, nonsexist and prosperous society. I believe in order to do that and fulfil the vision of the greats like Nelson Mandela, we have to go through the reconciliation process as a country, because there can be no progress without reconciliation.
As was the mantra within the struggle: "The main enemy is the system and those who continue to support the system."
Therefore, should we not extend a courtesy of fairness to a man who was ordered to commit those atrocities in the same way we extended a courtesy of fairness to those who ordered him to commit them?
This doesn't make Eugene de Kock a martyr in any way, shape or form. It does, however, mean we remove the venom in our system as a country to move forward uncrippled by the past.
As former statesman Nelson Mandela said: "Forgiveness liberates the soul." "
In favour of Eugene's parol which he later received.
A few things shifted inside me when I sat face to face with my fathers killer and the most profound was that when I forgave Eugene I suddenly realised it had been me who was in prison the entire time.
Forgiveness taught Candice Mama that it is rarely ever about the perpetrator it is about freeing ourselves from the hold the perpetrator has over us, it is not about forgetting it is about removing the emotional attachment we have to the event.
Forgiveness is choosing to free ourselves from our own mental prisons.
I wish you all the freedom of forgiveness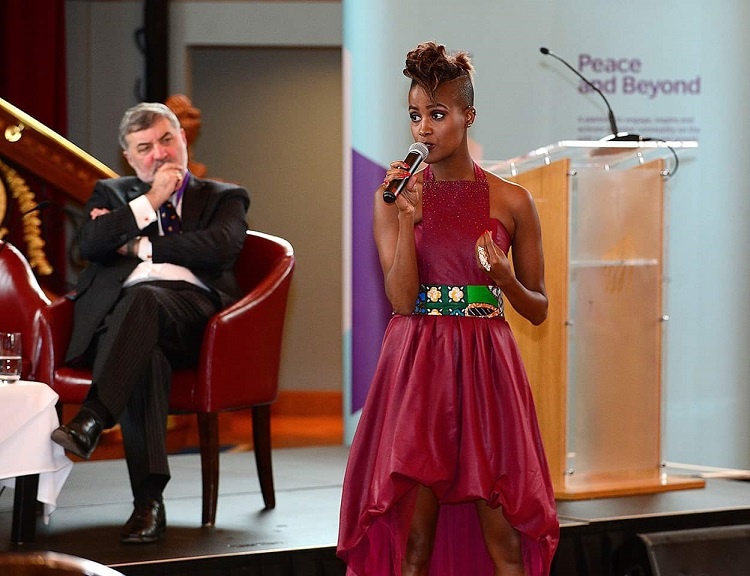 ACCOLADES CANDICE HAS RECIEVED:
Vogue Paris's 1 of 33 most inspiring women in the world alongside: Nicole Kidman, Michelle Obama, Malala
Starring in acclaimed documentary, It's A Pleasure to Meet You based on her and Siyah Mgoduka Showcased Louis Vuitton Foundation
In 2017 Candice was presented with the Human Beacon of Dignity Award in New York presented by Nobel Peace Prize Nominee Evelin Lindner for her contribution in the field of forgiveness.
NOTABLE TALKS:
Global Leadership Summit
Peace and Beyond Conference alongside Lord Alderdice, Bill Clinton
Leading Universities around the world
Sat on panel discussions and in conferences alongside (to name a few):
Bill Clinton
Archbishop of Canterbury
Homi Bhabha
Judge Albie Sachs
Candice Mama IS ALSO:
An Emcee A Writer
A Podcast Producer and Host (Weekly Mashup on Cliffcentral March 2015- March 2018)
Artistic Director for AIME Mentoring Australia
Candice Mama
TESTIMONIALS
"Candice is a remarkable young woman who enchants anyone who comes into contact with her. Whilst also being a gripping storyteller" Colm Mcgivern, CEO British Council
"Candice has made me proud to be a South African today, we have done some things right" Judge Albie Sachs, Activist, Former Judge on The Constitutional High Court of South Africa
"Candice is not only making a difference but, a valuable and inspiring contribution to our country. She is a shining example of a compassionate human being who exudes a wisdom." Anemari Jansen, Author of Eugene De Kock: Assassin for The State
"Candice Mama is remarkably impressive. She presented well, with immense self-confidence and composure and displayed a maturity and insight well beyond her years. " Mandy Wiener, Journalist Marie Claire Magazine, Author
---
Book Candice through Motivators and follow Motivators on Pinterest