Chantell Ilbury | Business Strategy Speaker | London
Chantell Ilbury specializes in guiding companies and other organisations through their strategic conversations on the future, and she believes passionately in the power of scenario thinking to unlock the best ideas on strategy.
Chantell was born in Bulawayo, Zimbabwe on 30th April 1961. She was educated at Eveline High School before moving on to the University of Natal in Pietermaritzburg where she completed her BSc. in Chemistry and a postgraduate Higher Diploma in Education.
She has since completed an Executive MBA from the University of Cape Town Graduate School of Business and has also studied Strategic Negotiation at Harvard Business School in Boston.
After university, Chantell started a career in education, firstly as a teacher and then as a designer of computer-based training material for industry. At the same time, she also developed bridging courses for post-matric students and accepted positions to lecture Chemistry and Education.
In 1995 Chantell expanded her approach to education when she founded 'Scienceworks' – South Africa's first science communication company.
She pioneered a radical learner-based approach to science education, which she then incorporated into the design, manufacturing, retail and eventual export of a range of 16 creative science kits aimed at the 7-16 age group.
Chantell was invited to be the consultant co-ordinator for The Olwazini Discovery Centre in Pietermaritzburg – South Africa's first combined science and cultural centre.
Chantell Ilbury
Chantell remains committed to education and has been appointed to the board of directors of Clifton School – a leading independent boys' school based in Durban.
It was while Chantell was at UCT Graduate School of Business in 2000 that she first met Clem Sunter. They shared their ideas on scenario planning that led to the writing of their best-selling book, 'The Mind of a Fox'. The second book, 'Games Foxes Play' was launched in April 2005; and their third, 'Socrates & the Fox', in November 2007.
Chantell has also lectured on strategy and scenario planning at a number of South Africa's top business schools. She is an accomplished speaker on effective management in times of uncertainty; and has addressed audiences as far afield as England, Ireland, the Netherlands, the United States, Australia, Singapore, Austria, Italy, Kuwait, Jamaica, Tanzania, Jersey and the Isle of Man, as well as throughout Southern Africa.
Chantell is married to columnist and broadcaster Daryl Ilbury and they have two children. Her hobbies include travel and reading.
Socrates and The Fox
Take the analytical method of the father of Western philosophy (Socrates) and the wily habits of nature's cleverest animal (the fox).
Add a hint of Eastern mysticism from one of the finest minds ever to grace the field of scenario thinking (Pierre Wack).
Blend all three of these elements – with a sprinkling of originality and plenty of experimentation – into a strategic conversation model and what have you got? … 'Socrates and The Fox'.
Chantell Ilbury and Clem Sunter have constructed an agenda of ten questions which, if answered fearlessly and honestly by the management of any organisation, will provide them with a clear idea of their future in the 'game'.
Numerous examples from the sessions that the authors have facilitated around the world are given by illustration.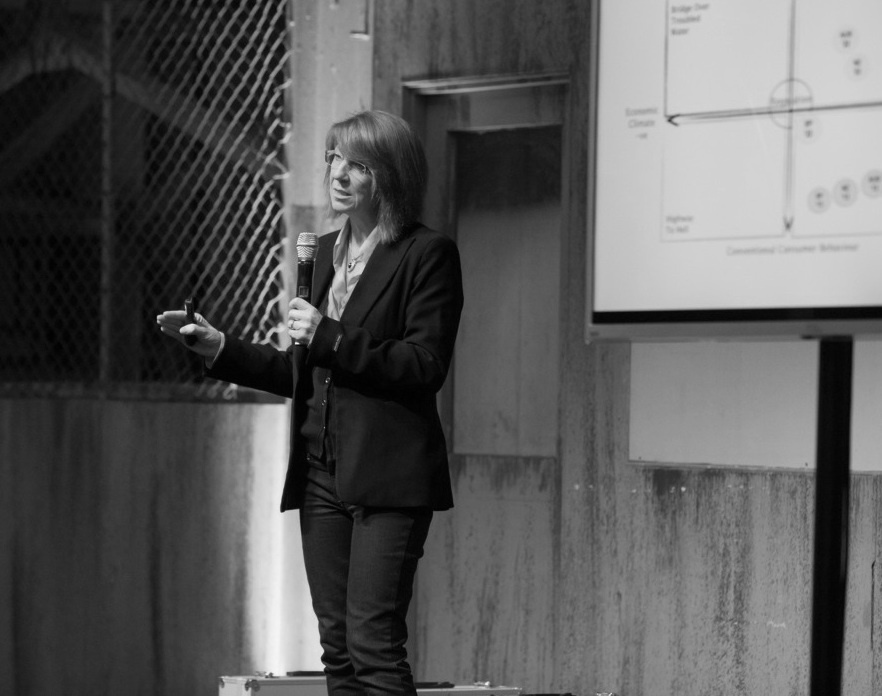 The Mind of a Fox

Many of the world's true leaders in politics, business and sport have succeeded by adopting the mental processes typical of the ingenuity of one of nature's most resourceful animals – the fox. Are these mental processes extraordinary? No, they are perfectly natural, and can be a powerful tool in scenario planning and making decisions.
By drawing on fascinating examples found in business, nature, science, space and sport, Chantell Ilbury – Strategist Facilitator and Clem Sunter provide a crisp and entertaining analysis of the mind of a fox and identify the two questions you should ask before committing yourself to action: what do you and do you not control? What is certain and uncertain about the future?
They have constructed an ingenious matrix around these questions, which assists you to identify the rules of the game; assess the key uncertainties; paint scenarios; evaluate realistic options; and thereby make effective decisions. Essentially the matrix will give you the edge: The Mind of a Fox.
Her extensive experience as a facilitator of executive-level strategic conversation allows her to draw on strategic insights developed across many fields such as mining and resources, agriculture, pharmaceuticals, accounting, legal and other professional services, asset management and investment, retail, transportation, industrial and manufacturing activities, as well as water and food security.
Here is a list of her current talks:
The Leadership Evolution – Shifts brought about by powerful megatrends demand business and political leaders be agile and authentic…or risk becoming redundant. [In this talk Chantell highlights the megatrends that are driving dramatic changes in business and politics and the impact this is having on the type of leadership that is required].
Moving the Dial: The Emergence of 'Consumer Leadership' – Like shifting from analog to digital, businesses are losing control of innovation to the consumer, creating an innovation tension. [In this talk Chantell explains why, and how, consumers are leading innovation – a prerequisite for business growth – and the impact this is having on the relationship between businesses and their consumers].
Shifting Scenarios – Possible futures for Africa and the world. [In this talk Chantell highlights the continually shifting global and African scenarios and the interplay between them, raising the question of what are Africa's key priorities].
Constructing your Future – Strategic thinking as a competitive advantage. [Using scenarios and unique case studies, in this talk Chantell explains how to build capacity for strategic thinking and develop a competitive advantage in the age of intelligence].
Flagwatching – How to identify the flags that are changing the game. [In this talk Chantell explains how something we do naturally every day can be applied in the use of scenarios to identify possible changes in your game ahead of your competition. This is especially critical in today's rapidly-changing times].
Education and Entrepreneurism – The dramatic shifts in the business environment mean traditional models of education have to change. [In this talk Chantell explains how true entrepreneurism can be encouraged within young people to help them be adapt to these shifts].
Backwards and in high heels – A woman in a businessman's world. [In this talk Chantell speaks candidly about steering the strategic decisions of executive teams – still almost exclusively male; dealing with physical threat, controversy and reputational risk; and the dangers of a woman travelling the world alone; and she also provides refreshing perspectives on balancing the demands of family and business, and on women in the corporate working environment].
---
Contact Us at Motivators and follow on Facebook