Chris Bertish | Adventure Motivational Speaker | Los Angeles
Chris Bertish is a professional speaker, big wave surfing Mavericks champion, stand up paddle board Guinness World Record holder, best-selling author, award-winning film director, philanthropist, conservationist, educator, ocean pioneer and businessman.
He was recently recognized as one of the Top 5 Speakers in South Africa and selected as one of the Genius 100-Global Visionaries for the future, by the Einstein Institute, both for excellence in his disciplines and universal global positive influence. Together, Chris and his fellow visionaries, Deepak Chopra, Sir Ken Robinson, Ruth Bader Ginsberg and Shimon Peres are collaborating with the intent to inspire the next generation of geniuses.
His incredible Mavericks big wave story was developed into a globally inspiring and award-winning film, Ocean Driven, and then emerged into the best-selling book-Stoked! In 2017, Red Bull Adventure exclaimed Chris "redefined the concept of extreme adventure" when he became the first person ever to stand up paddle across any ocean. Defying all odds, he navigated 4660 mi (7500 km) solo, unsupported and unassisted for 93 days, across the Atlantic Ocean from Morocco, Africa to the Caribbean Island of Antigua. The Sup Crossing was a truly unparalleled global feat, while raising money and awareness for conservation and to help disadvantaged children in Africa, through the Lunchbox Fund and Operation Smile.
He has become renowned for his dynamic and inspiring keynote addresses delivered around the globe, which move audiences to tears and laughter, with a powerful narrative and audio-visual overload that keeps people on the edge of their seats from start to finish.
Chris Bertish shifts boundaries and shatters perceptions of what's possible, while using his voice, his stories and his adventures as a force for good and positive change. He is B Corp and 1% for the Planet Certified, using his adventures and projects to support charities, both in the humanitarian, educational, sustainability and environmental realms, to bring about tangible positive change, inspiring us to give back, be better humans, become more purpose driven and discover our greatest potential.
Chris is an Ambassador for the World View Climate Change Parks, Operation Smile, 2Oceans Aquarium and recently been taken on as a global Ambassador for Conservation International and through his business he annually plants multiple forests around the world, to be an example to others of the change we wish to see in the world.
He's also been a part of a small team working on a new, innovative and forward thinking educational curriculum for the world, called "Ambassadors for the Planet", which was recently endorsed by the U.N. and will be launched globally in 2020, teaching kids outdoors in nature, through design thinking, creating better humans, solution driven thinking youth, with the planet in mind more, creating mindful leaders.
Chris and his team have just finished his new feature film documentary called "Last known Co-ordinates", on his mind-altering, purpose driven, solo, unsupported, Trans-Atlantic Sup Crossing journey. The film is set to launch globally in the early part 2020 and will inspire a generation to believe in what's truly possible when you're truly purpose driven.
Over the next two years Chris will be finishing up on his second Book "All in!" on his incredible Atlantic journey, while also working with his global team will be working on the Oceans 17 Project, a massive global project set for 2022-2023, where Chris will be circumnavigating the planet, building schools, delivering the new curriculum, planting forests, at 17 unique locations around the world, highlighting 17 of the worlds most endangered species, all tied into the UN's 17 global SDG's and doing this all completely powered by nature!
KEYNOTE Talks
Topics
First person to row Standing Up across the Atlantic – 2017
Impossible – The Mavericks Big Wave Story
Power of the Mind: Obstacles and Welcoming Change
Vision, to Goals, to Action, to Success
Dealing with Change and Conquering your Fear
Chris is a Marketing & Sales graduate who runs his own business in South Africa, while inspiring people both locally and around the world, delivering workshops and motivational talks for businesses and corporates alike.
Chris Bertish motivates staff and sales teams by helping them realize that, by having the right attitude, embracing change, overcoming obstacles and improving planning and preparation, they can dramatically improve business results while achieving their own personal goals and helping them in their personal lives, while realizing their own full potential.
Testimonials
You were everything we could have asked for and more! The response was overwhelming… You are a special Human Being!
– Steve Harden-Southern Wines GM, California, USA 1000 Executives-the Hilton, San Francisco
Chris Bertish claims to be an ordinary person however his story is nothing short of extraordinary. He kept the audience riveted and awe inspired at the power of the human spirit to overcome obstacles and his pure determination and will to succeed.
– Jason Rade-Senior Events Manager, The Eventful Group
Everyone is just raving about your talk. Your story is truly outstanding and is told with humility, insight and humour, which is woven into a spellbinding narrative. As a motivational talk, I cannot fault it!
– Paul Boynton, Alternative Investments Manager, Old Mutual Investment Group
We had 45 delegates for our annual Sales Conference in June 2013. Chris gave an awe-inspiring account of what it takes to make impossible, possible. His commitment, tenacity and passion was evident in his talk and the team continuously referenced him over the next few days of the conference. We found him to be very 'real', totally relevant and in line with our strategy going forward.
– Gary Van Rooyen- New Balance, GM
Chris is a remarkable example of how important mental control is in order to overcome great obstacles and utilizing the Power of the mind to show that nothing is essentially Impossible.
– Tim Noakes- Founder Sports Science Institute
It was a pleasure and privilege to have such a passionate and motivated individual share with us his deepest understandings, his wildest experiences and to truly captivate us with the essence of, 'impossible is nothing'.
– Mike Markovina,TEDxSeaPoint
Chris Bertish speaks from the heart, and from vast experience, to convince his audience of the power of the human spirit to overcame the greatest obstacles."
– Steve Pike, WaveScape Speakers Night
BOOKS: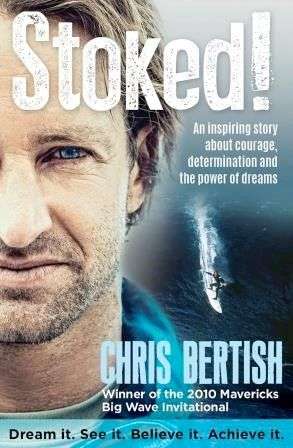 Stoked! Stoked! Stoked! is an inspiring true story about courage, determination and the power of dreams. Chris Bertish was a skinny little kid from Cape Town when he started surfing with his brothers. Fiercely driven and constantly pushing his boundaries, Chris was not content with conquering 'ordinary' big waves.
---
Contact Us at Motivators and subscribe to our YouTube channel