Noa Belling | Wellness Speaker | Cape Town
Noa Belling is an internationally published, bestselling author and psychotherapist with special focus on the mind-body relationship. Noa masterfully guides audiences to enhance body awareness as a valuable tool for so many things, such as stress management, cultivating mindfulness, increasing happiness, enhancing vitality, finding inner peace and boosting both confidence and creativity.
Her work elevates the value of body awareness in society to be better recognised for the powerful change agent that it can be.
If you want to be empowered to positively influence how you or your employees feel no matter what you or they are going through, while optimising qualities like confidence, creativity, resilience and mental clarity, then Noa Belling is the person to turn to. Noa brings a refreshing presence, deep insight and experience from a mind-body perspective, and a wealth of practical tools to her presentations that can be tailored to different audiences and topics. Some topics that Noa has focused on in the private, educational and corporate sectors include wellness, mindfulness, happiness, stress management, resilience, embodied leadership and team building.
Noa as internationally acclaimed author and is an author of a number of internationally published books on mind-body wellbeing. Her journey started in 2001 with The Yoga Handbook that is an international bestseller translated into many languages. This was followed by a few more Yoga titles.
More recently Noa has honed in on her passion for sharing practical wisdom influenced by her Masters degree and continuous professional experience and learning in the field of somatic or mind-body psychology. Noa has accumulated almost two decades of professional experience teaching, presenting and writing in this field.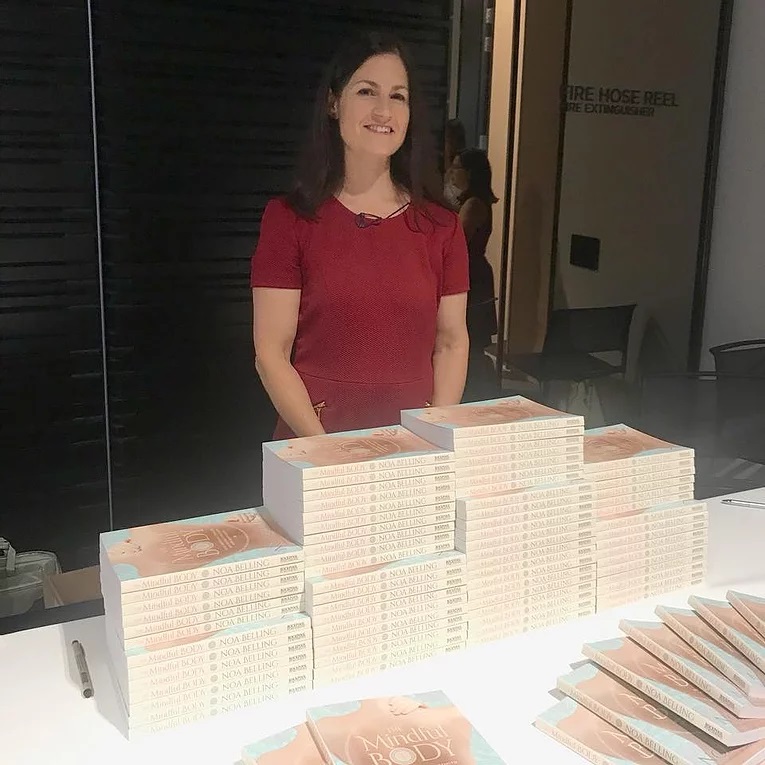 Her latest titles include:
The Mindful Body: Build emotional strength and manage stress with body mindfulness
Topics covered in a presentation or workshop format:
Mindfulness made simple: for resilience, focus, clarity and relaxation
Happiness: How to tap into your feel-good biochemistry and optimise confidence, creativity and your brain.
Stress turnaround – how your body reacts to stress and how body awareness helps you to turn stress into greater vitality. Targets stress related feelings like anxiety, depression, irritability and more.
Different personalities at work – a lively exploration of common personality styles, with opportunity to identify what fits you best. Also focus on how different kinds of people can engage better with each other for optimal teamwork and organisational success.
Wellness toolkit from a mind-body perspective, including current research made simple and accessible practical tools.
A toolkit for incorporating body awareness into the practice of psychology, counselling and coaching
Testimonials:
"Noa's presentation was absolutely brilliant. She had such an amazing powerful gentle presence on that stage. It was palpable. – Steve Durbach, artist-scientist
"Noa Belling captivated our entire audience of almost 200 people with simple opportunities to perform our best through connecting our mind and bodies." – Jennifer Nathan, Westpac Australia
"Your open and down to earth communication style warmed the room from the moment you stepped on stage. I've had some really positive feedback and have also seen attendees sharing your tips with people back at the workplace!" – Archana Das, Westpac Australia
"Thank you for a very informative presentation. We have received 100% positive feedback from your presentation for our Australian Hypnotherapy Association group who attended." Brian William Smith Dip of Mod Psychology, NLP MPrac. MH. PMAHA, (TFT) Thought Field Therapy, Australian Hypnotherapists' Association Qld Co-ordinator
---
Contact Us at Motivators and subscribe to our YouTube Channel