Ryan Stramrood | Adventure and Motivational Speaker
I am Ryan Stramrood: South African, Small Business Owner, Family Man and Average Joe.
However my hobby is Ultra Extreme Open Water and Ice swimming, and for deeply personal reasons, I have undertaken some of the world's most extreme challenges. Pushing my limits and human boundaries in our planet's most inhospitable places.
Following painful, pioneering training techniques and using what limited resources I can nd to put basic safety procedures in place, I challenge myself by pushing personal limits for swimming in ice water, and often set new benchmarks for human endurance.
No wetsuits or protection from the cold water – Speedo's only. My adventures, world rst achievements and the often death-defying circumstances, make for brilliant tales of human spirit and victory.
Inspirational Speaking
I take my audiences on a journey with me. Through story telling and strong visuals, I illustrate just how limited and governed we all are, in every aspect of our lives, by believing in our own limitations.
How we under achieve in our comfort zones and how each and everyone of us can push past impossible.
As the founding members of the Interna- tional Ice Swimming Association (IISA), we wanted to achieve an o cial world rst Ice Mile south of the Antarctic Circle.
As one of the three who completed the challenge, out of the six making the attempt, the lessons I learned from pushing myself so far beyond what nearly everyone believed to be impossible, have helped me to understand the power of the human mind and it's propensity to hold us back.
The psychological anxiety from the Leopard Seal's we stood to encounter on this challenge, on top of an impossible distance in minus 1°C water, made this a pivotal challenge for me and the focus of my primary keynote talk.
After establishing the International Ice Swimming Association (IISA), three of the South African founding members were invited to partake in an event in Tyumen, Siberia.
Ryan Stramrood | Adventure and Motivational Speaker
Still new to the challenge of ice swimming, the team arrived to meet MINUS 33 °C ambient temps, a very curious local media and a truly petrifying situation as we stood on the side of the 25m "pools" which were cut into a frozen lake.
This has been one of the best stories and adventures to date. A 24hr whirlwind of emotion and mental conquering. A journey from "This is impossible" all the way to SUCCESSFULLY accomplishing the 1km distance.
Ryan Stramrood represented South Africa in a WORLD FIRST two-way relay attempt to cross the notoriously di cult North Channel; Swimming from Ireland to Scotland and then back to Ireland, a total distance of 70km in 12 degree C water temperatures.
Against massive odds and going against the expert advice, the team had to make di cult decisions prior to their attempt.
They faced unbelievable challenges in the icy waters, as a result of the poor weather, extreme distance and the violent Lions Main jelly sh poisoning which ravaged the team.
This double crossing took just over 29hrs for the 6-person team which was made up of swimmers from Ireland, Sweden, Finland, Estonia, Czech Republic and South Africa. Jokulsarlon, Iceland is certainly one of the most unique swims Ryan Stramrood has done.
The goal was different. It was a TV production which required a different discipline, shoots, re-shoots, dialogue, multiple entry, much exposure and the rudimentary recovery facility of a warm van.

But again, a rm reminder as to just how deadly exposure to ice water is, how focused the mind needs to be to extend a period and to perform physically in these temperatures. How quickly one starts to believe in one's own limitations – a mental defense mechanism with which I am so familiar. How profoundly the body reacts and the speed of its shut down. How painful the recovery process is and, of course, how unbelievably exhilarating the feeling is once the body returns to normal temperature and how the adrenaline pumps through my veins.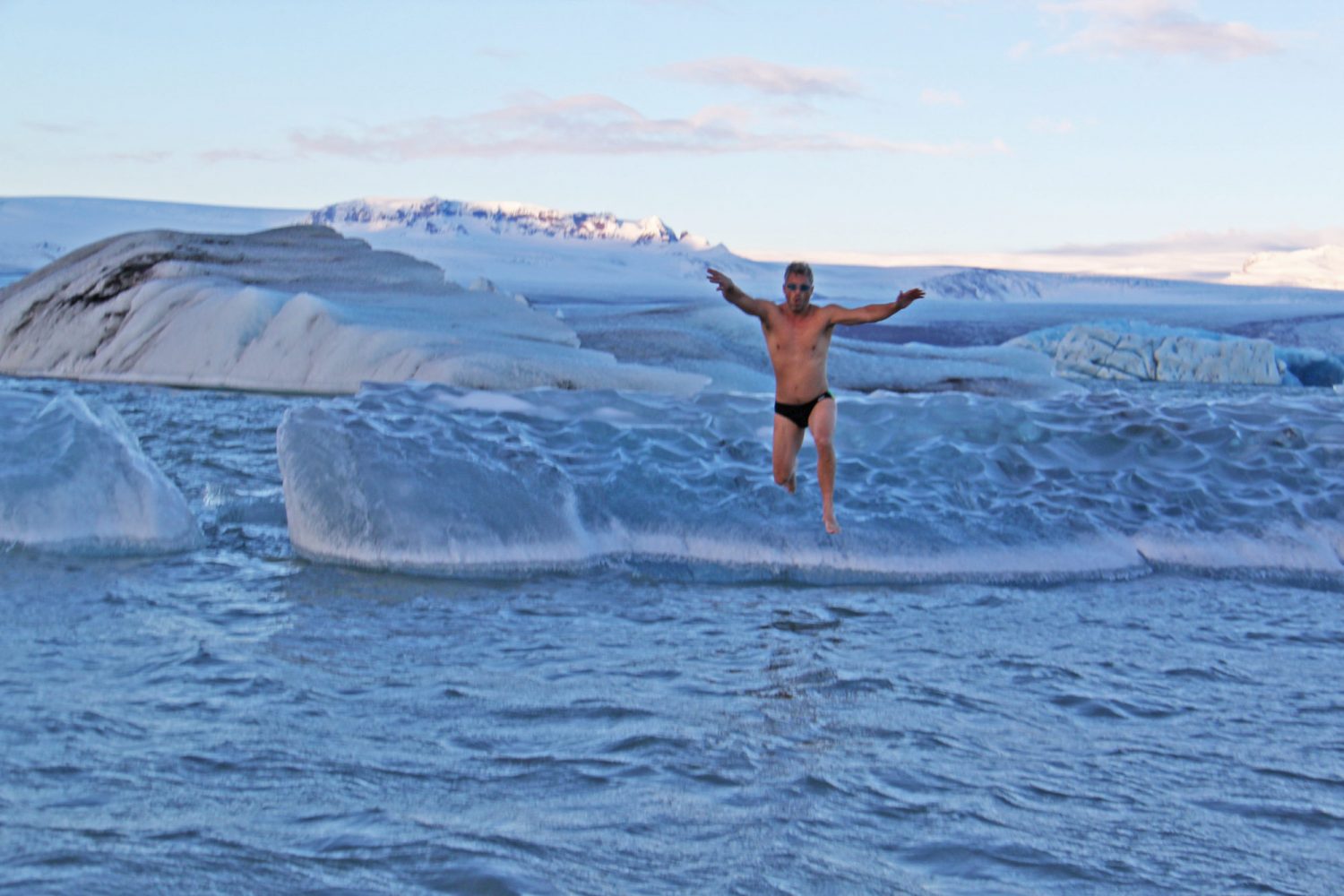 PUSH PAST IMPOSSIBLE INSPIRATIONAL KEYNOTE – 1 HOUR
I take my audiences on a journey with me. Through story telling and strong visuals, Ryan Stramrood illustrates just how limited and governed we all are, in every aspect of our lives, by believing in our own limitations. How we under achieve in our comfort zones and how each and everyone of us can push past impossible.
We're all shaped and guided by 'little impossibles'. Those things you've been telling yourself are not for you, are too much of a risk, things you might want to do but don't because they're hard, or too much effort or simply quite terrifying. Think about what yours could be and then challenge them. You learn nothing in your comfort zone. You'll get by and you'll deliver nice predictable results from that safe place, but you'll learn nothing. Step outside, take a risk, prepare for it, work hard for it, and I promise you: you will learn something. It might not always be a happy lesson, but you will learn and you will use that learning to improve your life. On the other side, if you do succeed, you'll realise, 'I should have done this years ago!
Key Takeouts:
Pure inspiration and motivation illustrated through story telling and incredible visuals
Goal setting and dealing with curveballs
The vital role of the perfect team
Push past impossible and live extraordinarily in all aspects of your life
GRIT MINDSET WORKSHOP HALF-DAY WORKSHOPS – 4 HOURS
The Grit Mindset Workshop is a new offering that Ryan Stramrood is uniquely positioned to conduct.
It is designed to combine emotion with message. Dramatically leveraging his inspirational story which impacts delegates and then immediately amplifies the strong messages and inspirational emotions via one-on-one/small group engagements and a practical (ice) exercise. The workshop adds a powerful practical element, while unpacking Ryan's inspirational keynote.
LEARN. DO. SHARE.
Power Message + High Emotion + Close Engagement + Practical Exercise = Real Behavioural Influence
FAILING FORWARD CONVERSATIONAL SESSIONS – 2 HOURS
These sessions were created to accommodate smaller groups in an informal conversational format. We find a suitable venue, preferably next to some water (pool or ocean) and we talk about failure! The idea of only sharing our success stories means we miss out on the more valuable lessons we learn from our failures.
Ryan Stramrood kicks things off with an epic tale of his attempt to become the first male to ever swim solo from Russia to the USA. This was one of his biggest and most useful life lessons, but also considered (by himself) as his greatest failure.
Being able to fall and get back up again, shows you have real grit and mental fortitude. We open the floor to the group to share their epic fails, with some friendly competition incorporated.
---
Travels from: Cape Town
Speaking Fee: from R40,000 excluding out of town travel/accommodation
Contact Us at Motivators and view profile on WeSpeak Global